Testimonials
July 2014
Dawn and everyone at Camp Canine, I can't thank you enough for taking such good care of Phil these past few years. It was so reassuring knowing that he was in such good hands. Camp Canine was truly his home away from home. I know there were challenges at the end and you guys never backed away. He lived 9 more months then his vet thought he would and you all were a major reason why. I'm so sorry there wasn't a chance to say goodbye..but know that he loved spending time with you. Sincerely, Jim
June 2014
Dear Camp Canine Family, After 6 years, it is bittersweet that we leave CT. You have been wonderful to us and our family -- always accomodating and professional and caring. All our best, Lulu, Kalli, Marty-Katherine and Andy
November 2013
Dawn & all Jakes caregivers, We want to thank you for 5 years of love to our boy Jake. Camp "C" was his home away from home. The Ecktroms
September 2013
Thanks so much for taking such good care of me this summer. I had so much fun hanging out with my friends at Camp! I'm going back to California next week - I'll miss everyone but will see you again next summer! Love Kali
August 2013
Thanks for taking care of me for two weeks and three days. I enjoyed everyone that took care of me. I will be back in the future! Thanks Dawn and staff. from Abby Case
May 2013
Dawn, I just wanted to thank you for the time ou took out of your busy day to help me with Noah. I am going to try your recommendation and I'm sure it will work. Thanks again Deb
March 2013
Marilyn and I would like to thank all of you for taking such good care of me!
Many Licks, Allie
October 2011
Deer Camp Canine Staff a.k.a. "Beloved dog-sitters"
I cannot thank you enough for taking such good care of me every Wednesday when my Mommy and Daddy have to work late. Wednesdays are always my favorite days because I have so much fun here! Love Gabbie
October 2011
Deer Camp Kanine frends,
Thank yu for takeing such gud care of me and playing with me and always giveing me cukies! I love all of you so much! I go kukoo in mommy's car as soon as we get close! mommy likes to no that I'm so happy and playing losts ang getting aaaaallllll my energie out! thank yu for playying with me lost of love everee wensday! see yu soon! Luv Achilles
August 2011
Thank you so much for all you did for Jeter while we were away. It was a stressful time and knowing while we were away that he was being well taken care of & spoiled, made a huge difference.....Thank you so much for being so AWESWOME!
Jenkins Family
Octoberl 2010
Thank yu for taking such gud care ov me! I luv coming too skook every Wensday! I'm always very tired after too, so my mommy iz very happy! Yu guys are the best!
Love Achilles Currao
April 2010
I cannot thank you enough for the love and care you gave to my Casey Beagle these past several months. It was a comfort knowing he was being watched over and taken care of as I would have done for him. He was a happy boy and he loved you all! I would not hesitate to recommend Camp Canine and I thank you from the bottom of my heart...
Love, Cheryl
June 2009
Thank you for keeping us sfe and happy at Camp Canine for our first time away from home. Love & Kisses your friends
Blackie, Sparkle, Starlight, Riley & Princess
May 2009
Thank you to everyone at Camp Canine that took such good care of Bailey and Sam last week. Knowing that they were safe and well cared for made our trip easier.
Lois & The Riley's
April 2009 (Sue - Puppy Class)
Dawn, Thanks for providing the opportunity for local training classes for pups/dogs and for hiring trainers who really know their stuff.
I entered your training room with a snarling, scared, barking pup with his hackles up from ears to tail. Sue handled the situation really well by placing us in a side area a bit away from others, but where we were still part of the class allowing our pup to see the others and get used to being in the same room with other people and dogs. Over the next few weeks of the class, our pup was gradually introduced to the others with Sue close by to ensure all went well.
On kindergarten graduation evening, our pup romped and played off leash with the others and had a grand time. I don't know who beamed brighter, me or Sue. The icing on the cake was his new behavior while walking in our neighborhood. When we meet other dogs along the way there is a bit of a sniff and a lick after which I have a pup with a wagging tail and doing some play bows.
Thanks from a recent kindergarden graduate!
February 2009 (Sue - Puppy Class)
Well, I felt like a Pez dispenser, but I had a much more enjoyable walk today than in the past. Taking your advice, I broke up some treats into smaller pieces and filled my pocket. Dishing out treats every once in a while kept Wile E's attention on me and he didn't pull nor did he make like a hoover and try to suck up every rock, leaf or piece of dirt we encountered on the sidewalk. Today was the first time he didn't pull when we got near the house and up the driveway.
He stayed right by my side and didn't try to get ahead at all. No flopping like a fish on a line. He even sat when I stopped...
Your info last night showed me that we're 50% doing things right and 50% doing them not so good. I like your analogies - they make sense and help explain why things are better done the way you suggest with positive reinforcement. You're good at what you do.
Sue
Wile E's Mom
November 2008
To all the Crew at Camp Canine;
Thank you for pampering my Rexy (again) and our newest addition, Gypsy Rose Lee! We always feel relaxed on vacation knowing my pets are in experienced hands. They come home happy and to be perfectly honest they really do not miss us at all! That is a sure sign of the love and commitment at Camp Canine. Thank you again and see you all before our next vacation.
Chris and Mary
August 2008
To all Camp Canine Staff,
My husband and I would like to thank you for everthing you provided to Benson and our family. You helped make Benson's time away from home easier by letting us visit. We will use you for future vacations and will also recommend you to friends and family. Thank you again!
Jenn and Bill
March 2008
To all the staff at Camp Canine,
Thank you in advance for taking care of our precious dog Newman. We sincerely appreciate you giving him a larger kennel considering how long he will be there combined with the fact he is unable to particpate in the daycare.
Also Thank you for the TLC he will recieve and for anything you do for him that allows his stay there to be enjoyable!
After stay:
Thank you so much for taking such wonderful care of Newman while he was there. We appreciate the special attention he received because he wasn't able to be in the daycare area. Lastly, the bath he received was the best he ever had. His fur has never been softer!
Jim and Denise
January 2008
To Everyone at Camp Canine!
Rexy wanted me to write a thank you note to all of you to let everyone know what a wonderful time he had staying at Camp Canine. He talked the whole way home about what a great time he had.
Thank you again! It was conformting to know that he is happy with you. My vacations now will be even more enjoyable!
Regards Mary and Chris
December 2007
To Camp Canine Staff:
Thank you for taking such good care of me when Mom and Dad go on Vacation!
Callie
November 2007
I wanted to thank you and your crew for taking such great care of Payson while I was on vacation. It definitely makes it more enjoyable not having to have to worry about him!
Thanks Again Danna
August 2007
To everyone at Camp Canine:
Thanks so much for taking such good care of Murphy while he is here. We appreciate each and everyone of you!!!
Fondly Kris and Rick
August 2007
Thank you for taking care of me while my humans were in the Bahamas, I had a great time!!
Love Toby
September 2006
Dawn, I really want to thank you for all of the good care that you and your staff give my dog every time she visits Camp Canine . I would never consider any other place for her to stay. I appreciate being able to call and check on her everyday and you or your staff always have some story to tell me about her. Your place is truly a gift from God. With a dog like Oreo who is always so nervous about everything, your place is one less place for me and her to worry about.
Thanks again for starting Camp Canine!
Saskia
June 2006
Dear Dawn & Staff
Thank you for taking such good care of Max & MacKenzie while we were away. We know how much you and your staff care about the animals under your care. It was nice to know that you can bring you pets to a place, and not have to worry about them being neglected or abused. We will continue to tell our friends and colleagues about Camp Canine.
Thanks again, Andrea & John
June 2006
Hi Dawn,
A HUGE Thank you to your staff for making Kenworths stay at Camp Canine so pleasant!! I was very nervous about him staying over that long weekend. Usually he is home and someone watches him for us. I am relieved to hear that he was so well behaved and made friends. We will definitely be sending him to Camp Canine again!!
Thanks!!
Jen
October 2005
Ladies of Camp Canine,
We just wanted to say thank you for helping us through a difficult time. We know that Eve was well taken care of during her stay at Camp Canine! Thanks again for ALL your help.
Melinda & Dave
October 28, 2005
Thanks for taking such good care of us - we love coming to Camp!
Your October Dogs of the Month, Lars and Tarra
August 26, 2005
Hi Girls,
Congrats on the success of the past two years! Camp Canine is such a great place to send Eve. You all have provided her with such great care and we really appreciate it!
Melinda, Dave & Eve
August 22, 2005
Dawn,
Thank you for taking such good care of Fredo! Although we missed the little bugger, we were able to enjoy our vacation knowing he was in good hands. We felt so reassured after our phone calls to you during the week. You and your staff's attention to each dog and passion for what you do is so important and very obvious. And the kennel is so clean and welcoming! I expected a much dirtier and smelly place - after all, "a kennel is a kennel, right?" WRONG! You've raised the bar and set yourself apart. And for that, Michael, Fredo and I are very thankful! If we lived closer, we would bring him there during the week for daycare (we are almost in Chesire). But, rest assured he will be back when vacation rolls around again. In fact, knowing he has a safe, enjoyable place to stay may inspire more time away for us! But for now, we are just going to smother him with kisses, hugs and snuggle naps.
Again, our sincerest gratitude.
Michael & Cheryl
July 21, 2005
Dear Camp Canine Staff-
Thank you so much for taking extra special care of us and really making us feel at home. We really enjoyed your kindness & playfulness.
Thanks again.
Cody & Casey Valentine
July 6, 2005
Dawn-
Thank you for the 4 th of July bandana! Max was patriotic and wore it all weekend. Everywhere we went people commented on his cute bandana.
I would also like to thank you and your staff for taking such great care of Max. He absolutely loves going to Camp Canine . I would refer (and have referred) anyone with a dog to your facility.
Thanks again,
Kristina
June 18, 2005
Dawn & Staff
Thank you so much for watching our dogs. It really took the stress off of us knowing they were here.
Sincerely,
Ed & Danielle
June 1, 2005
Hi Dawn,
I would just like to send a thank you for taking such good care of my puppy, Chelsie, on our Memorial Day weekend vacation. I was very nervous to leave her overnight in a kennel at first. But she came back to us happy and just seemed to have had a great experience. The staff was so friendly and seemed to be genuinely concerned for her care. I am happy that she was in great hands!
Sincerely,
Shannon
Southington, CT
October 22, 2004
Dawn,
Once again I picked up some really tired and oh so happy pups. Just wanted to thank you again for taking such good care of them and for making traveling a worry free experience for their mom. Wednesday snored all night after playing with Broadie and Camden just wanted to veg in front of the tv.
Michelle
Eli & I want to thank you for the superb service you both provided for our dogs. Without your wonderful care, I don't know how I could have made it through some difficult times. We know not only Uki & Nikko will miss you, but us as well.
The best of luck with your business.
Sincerely
The Ortiz Family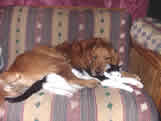 I wanted to say thank you for taking such good care of me this past week. I always enjoy coming to Day care and playing with all the dogs and especially with you guys. I just wanted to show you how tired I am when I get home from daycare. I love to lay with my cats after a fun day at day care. Thanks again.
Woof, woof,
Sammy Kalagher
Thanks so much for taking care of Ty!
We would not want to leave him with anyone else. You guys are the best!
Thanks again,
Bridgett & Darren
Max and Maizy have only attended campcanine daycare a few times, but every time has been a wonderful experience for both them and me. It is often hard to exercise two powerful dogs with a busy schedule and New England winters, daycare is a great device. Like they say, "A tired dog is a good dog!
We look forward to our next visit!
Sincerely,
Max, Maizy and Christie Kelley
January 20, 2004
Hi Girls!
Thank you so much for taking care of Abby and allowing my husband & I to go on this cruise. I was so thrilled when I called you to hear Abby was doing so well. That made me feel so much better and ease into this trip.
Love Lorrie
January 13, 2004
I love your service and your Camp. The care you give me and the hounds is wonderful!
Thank you Paula
Oct. 22, 2003
My husband and I want to thank you both for the services you provide. Before Camp Canine opened, my dog would have the roam of the house because confining her to the kennel wasn't working. Uki would have terrible separation anxiety and constantly have accidents or display destructive habits. I was at my wit's end for a solutions.
Then one day, my husband came home and told me about your place. I have looked into other services, but the prices and hours were inconvenient, so I couldn't pursue it. But when your business opened, I began to think about Doggy Daycare again.
Uki has been at Camp Canine for the past 3 weeks and the improvement of her behavior and overall demeanor has improved 150%. She no longer expresses any separation anxiety and to our surprise, she no longer minds being in her kennel.
I attribute this success to Karen and Dawn for the patience, love, and programs they constructed for the dogs.
Camp Canine is not only "heaven-sent" for Uki, but it didn't break us financially to do this for her.
Thank you both so much!!
Mr.& Mrs. Eliezer Ortiz, Jr.
September 15, 2003
With many thanks for taking such good care of "Brindle" while I was on vacation.
It is very apparent, to me, that he thrived at Camp Canine, and thoroughly enjoyed the experience. You can be sure he'll be a frequent visitor.
Thanks again,
Louise B.
I just wanted to let you know how happy Oreo and I were with your place. She is already a different dog. Two weeks ago my family adopted Oreo from a local animal rescue organization. She was very shy and could be easily overwhelmed. After about a week or so, her submissive urination stopped, but I never felt comfortable taking her out of the house. She was so shy, she would hide behind me or try and get into my lap or whatever to get away. She really only wanted to be in the house. She even had issues of fear biting.
I didn't know what to do and found Chris on the web. He was calm and felt she just needed some confidence building and suggested your place along with some other exercises.
The reason I am telling you this is because after being at your place yesterday, there was a great transformation. I took her to my son's football game yesterday, although she still is submissive to other dogs, she wanted to see everyone that went past her. Sniffing, jumping on or just waiting to be petted. She lay on the grass next to her family, belly up wanting to be rubbed. This is not the normal Oreo that we were living with, it was an new one.
I am so grateful to how you worked with me for mine and Oreo's needs. You took the time to get to know us and our special needs. Oreo needed that extra attention and time and you were right there to give it. I want you to know that you both are doing a great job and I am so happy you decided to start "Camp Canine".
I know the I am probably not the only family that you have changed or helped, but I want you to know how grateful we are. Oreo and I are looking forward to next week.
Thanks again,
Saskia
October 4, 2003
Just wanted to let you know how good it felt to be able to go away for a few days without worrying about our dogs. They seemed so happy and well-adjusted when we came to get them. We could tell they'd had a fun time. Also, I felt that you and your business partner really cared about all the dogs, and you seem to enjoy what you do. Volunteering at the CT Humane Society has given me a lot of insight about people and the ways they care for their animals.
The last place we kenneled them, I got vibes from that I wasn't thrilled with. They "lost" our dogs' toys, and they gave our dogs the kennel cough vaccine without our knowledge and without even telling us ahead of time that we needed that done. When we picked them up, there was an extra unexpected 36 dollar fee for it. I wonder still if they got the care they needed, and if they got the food we brought with them. They were very insecure when we picked them up from there.
Our dogs are our children. They are that important to us. When they aren't with us, we miss them and wonder what they are doing. It was good and interesting to get their "report card" and learn that Jemma is shy (never would have figured), whereas Fredrick seems like a social butterfly. I am sure it was good for both of them to be able to play with other dogs in a safe environment. So, Thanks. We will be regular customers.
I saw a sign up on the door when we were there about a Halloween costume contest. When is that? Can you give me some more details? Thanks again,
Wendy Goldstein