Meet Our Trainers
Susan Conly, BS
Dog Trainer & Behaviorist
susan@campcaninect.com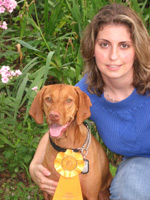 Susan has been training all breeds of dogs professionally since 2003. She believes that patience and consistency go a long way when training dogs and their owners. She is excited to be able to share her knowledge of the "dog world" with her students at Camp Canine.
Susan strives to be "in the know" when it comes to modern techniques in dog training. She enjoys attending local seminars and spending time at the local dog park watching dog behavior, she says "Watching a dog's body language can tell you alot about what a dog is thinking." Susan believes that taking the time to train your dog is the best way help reduce the number of dogs surrendered to shelters.
Certifications
American Red Cross Certified - Pet First Aid & CPR
American Kennel Club - Canine Good Citizen Evaluator
American Kennel Club - AKC STAR Puppy Instructor/Evaluator
Seminars
Camp R.E.W.A.R.D with Pam Dennison- Realizing Excellence With Attention Redirection and Desensitization: A workshop for aggressive, fearful or reactive dogs.
Canine Behavior Symposium at Tufts University, Boston, MA.
Overview of Canine Aggression, Medical Causes of Aggression and Fear-Based Phobias with Dr. Nicholas Dodman and Brian Kilcommons
Camp Behavior/Pack Leadership with renowned dog behaviorist Cesar Milan, of National Geographic Channel's, "The Dog Whisperer"
Canine Nutrition with Steve Brown author of See Spot Live Longer
Acoustic Care for Pets with Janet Marlow, musician
Changing People, Changing Dogs with Dee Ganley
Memberships
Association of Pet Dog Trainers
The Humane Society of the United States
Community Involvement
Guiding Eyes for the Blind- Volunteer
Holistic Dog Food Advocate
In Progress
Certified Pet Dog Trainer (CPDT) designation through the Certification Council for Pet Dog Trainers
Susan's assistant is a 8 year old Vizsla named Jada. Jada has completed Puppy Kindergarten, Basic Obedience, Intermediate Obedience (CGC), Intermediate Agility and Field Dog Obedience. Susan is proud to note their latest achievement of a Junior Hunter title (earned November 2006) and recognized by the American Kennel Club.
Return to Meet Our Trainers